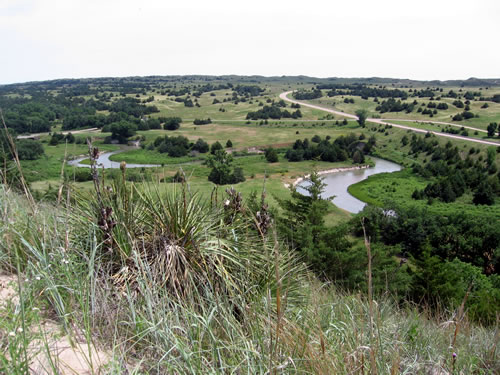 Stretching across the girth of North America, the Great Plains spreads like a wrestler's championship belt. In its center, resembling a jewel-laden buckle, lies the Nebraska Sandhills. They certainly are considered a gem by the people who live in, love, and respect them. In terms of geologic time and history they are mere toddlers, barely twenty thousand years old, crawling among the elders of a very distinct family. To the west, the older Rocky Mountain ridge pushes them toward the older features of the Mississippi River, the Appalachians, and the Alleghenies in the east. They are remnants of a clash between the upheaval of greater Rocky Mountains and the grinding of massive glaciers, from the north, over many ages. As the great layers of ice began to melt, their turbulent waters began to wash finer-ground materials of silica, rocks, gravels, and minerals toward the eastern valleys. Eventually, as the waters diminished, great Aeolian winds began to form these particles into dunes, lakes, meadows, and fens over a great glacial lake the size of today's Lake Huron. This buried water feature is known as the Ogallala Aquifer. The great grass-covered dunes act as enormous sponges to restore water from the atmosphere above and to dispense water from the lake below. The lakes, meadows, and fens serve as a medium to transfer activity between life, itself, and the waters beneath. Herein lies an area of land covering nearly a third of northern and western Nebraska, some nineteen thousand square miles. Despite the bitter winter winds and blistering summer heat, one has to admire and enjoy the pristine beauty and wide open spaces.
During January of 2001, the Sandhills Discovery Foundation was chartered by a group of northern Nebraska residents for the purpose of gathering and disseminating information and education regarding this unique area. It was formed around the legacy of several area residents, such as Sid Salzman, area rancher and grasslands expert, and Morris Skinner, world-renowned paleontologist and Ainsworth, Nebraska native. On August 6, 2002, a conference, dubbed Sandhills Discovery Experience, was held at the Ainsworth conference center. It was well accepted and deemed a success. The various subjects presented at that time were Sandhills stewardship, geology, range and forest management, weed control, and road-salvage paleontology. Subsequent subjects, for the various conferences, have included hydrology, all things great and small, life tapestry, dinosaurs and dunes, sea of grass, a tribute to the horse, and many others too numerous to mention.
Ascending the northern slope of the Niobrara River Valley by State Highway 7 north of Bassett, Nebraska, a traveler encounters one of the most diverse fossil deposits in North America. It serves as a record of the plains era of 6.6 million years ago. Youngsters and "Ole Fossils" alike have found this dig to be one of the most enjoyable activities of the yearly experience. University of Nebraska professor and road-salvage paleontologist Shane Tucker will conduct two digs during the three-day activities.
This year's main conference, scheduled for July 9 at the Ainsworth Community Schools Learning Center, will mark the fourteenth annual Discovery Experience. Following a theme of Lessons of the Sandhills, this year's presentations will include topics of geological aspects, formation, Ogallala Aquifer and waters, paleogeology, and Sandhills fossils. A number of breakout sessions, held during this time, offer a wealth of information regarding rural electrification, fossil identification, and Lakota native history. Area tours and activities are scheduled for July 8 and 10. Information regarding schedules, topics, meeting locations, fees, and registration can be found online at http://sandhillsdiscovery.org/upcoming.htm.
The Sandhills Discovery Foundation invites one and all, young and old, to join us for a fun time. They guarantee enjoyment, good food, and great fellowship. As charter foundation member and daughter of the late Morris Skinner Barbara Lamb offers, regarding this geologic gem, "They convey a quiet dignity."