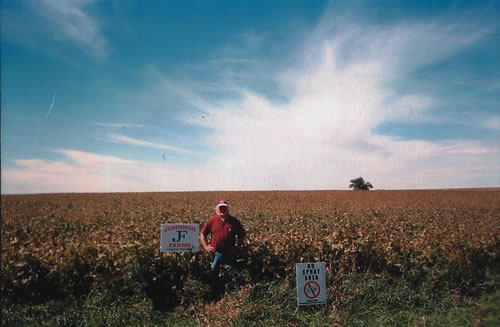 The first thing you've gotta do is dismiss the stereotype that organic farmers are small farmers. The second thing you must dismiss is the notion that organic growers are recent arrivals on the agricultural scene. Then you'd better understand the dramatically rising interest by consumers in healthy, nutritious foods.
Charlie and Allan Johnson's organic farm in southeastern South Dakota has a poignant history, with a terrific backstory enriched by a father who inspired his sons.
Bernard Johnson's intuition linked the quality of food products with the sanctity of their source. He bought his Lake County farm in 1956, and even as a beginning farmer sought out enlightened crop-growing tactics that would eventually have him eliminate the use of all synthetic chemicals. "My dad's litmus test when determining what to put on his land," explained Charlie Johnson, "was whether or not he could put it on his own tongue."
By 1976 Bernard had converted his entire farm to an organic operation, and his land ethic was driven by his desire to grow healthy food and minimize the operation's impacts to soil and natural resources. Charlie traces his dad's interest in the environment and protecting human health to his time spent in the Korean War.
"My dad was eternally relieved to have survived the Korean War," said Charlie, "and he had vowed during his time in that awful conflict that he would pray every day as thanks if he were granted survival."
"My dad regularly recited the rosary and the 'Our Father,'" Charlie remembered. "When praying the 'Our Father,' he would emphasize the word 'us' when he'd say 'give us this day our daily bread.' What he meant with that emphasis was that all men should receive their daily bread, and that all people should eat well, and if they do eat well, they can be at peace with each other. Growing healthy food to feed people motivated my dad. He saw farming and growing good food as a pathway to peace."
Bernard suffered a stroke in 1981, and Charlie returned home from his work at the Center for Rural Affairs, a progressive agriculture organization based in eastern Nebraska. In the years before his stroke, the elder Johnson had begun transitioning some of his land from organic cropland to organic grassland. He died in 1986. "My dad was a prophet," Charlie declared. "Allan and I carry on the organic farm because of my dad."
Today's operation—the one managed by Charlie and Allan—encompasses 2,400 acres. It continues to be completely organic, and that means the brothers do not use any artificial fertilizers or chemical pesticides and herbicides, and they also avoid genetically modified seeds.
They do follow a strict, six-year rotation of crops to maintain productivity and land health. The first two years they grow alfalfa. Year three is soybeans. Four is corn. Five is soybeans, again. And in the sixth year they grow oats. At any given time half of their land is devoted to row crops, and the other half hosts solid-seeded cover crops such as oats or alfalfa. Three years out of six the cropland has a permanent cover. Between years three and four—bridging the period from beans to corn—the Johnsons put down a cover crop, typically rye.
"It's a simple but effective rotation," Charlie stated, "and we stay disciplined and adhere to it. Our rotation balances cool season crops and warm season crops, as well as balancing grass crops and legume crops. Our decisions are influenced by agronomy, not economics."
They also run two hundred head of cattle—a cow-calf herd—on their rolling land that is surrounded by conventional farmers who use ample chemicals, synthetics, and GMOs, and pursue monoculture agriculture. "The main menu of farmers in our area is completely dominated year after year by corn and beans. Much of the agricultural diversity we used to see in our area is gone," said Charlie.
"The cattle operation adds to our diversity," he declared. "And because not all of the farm's 2,400 acres are tillable—about 600 acres exist as meadows and permanent pastures—the operation produces organic prairie hay and feedstock for our cattle."
Because they do not use chemicals of any sort, the Johnsons rely on tillage to control weeds. They also regularly walk their fields, physically cutting and pulling weeds. Charlie enjoys the close relationship he has with his land, and he proudly asserts that organic farming is more intimate to the land and more labor-intensive than conventional nonorganic agriculture. "Our type of farming," Charlie explained, "keeps us working hard from April to December. Organic farming requires more full-time, active farmers—not fewer farmers, which is the case with conventional farming." 
Instead of spraying a synthetic fertilizer on their land, the Johnsons spread a composted cattle manure derived from their own cattle herd. The cattle manure is applied only on land growing alfalfa. They've also discovered good results using dried chicken manure in pellet form to fertilize corn and soybean fields. Charlie estimated they spend about two-thirds less than what conventional farmers spend on fertilizer. "Our corn yields are 125 to 150 bushels per acre, and that's close to the county average, maybe 20 to 25 bushels less. So, we spend lots less on fertilizer, but our yields aren't that much different."
The market for certified organics is strong right now, and it is not expected to falter. Consider that organic corn is fetching close to $11 per bushel; $10.80 was the overall selling average for the Johnsons during the 2013–14 marketing year. Nonorganic (conventional) corn is now hovering in the $2 range.
The Johnsons are clearly benefiting from swelling consumer demand for healthy, organic foods. For example, organic dairies in the region, especially in southern Minnesota and Wisconsin, require organic feed for their dairy herds, and supplying that need has been a lucrative market for the Johnsons. Organic poultry growers also provide another important source of income. As it happens, American organic crop growers like the Johnsons can't keep up with the demand of American organic livestock producers, and exports must fill that void. "Every single bushel of grain that we raise," exclaimed Charlie, "is sold at a premium price because it's organic."
The process of verifying an operation as organic requires annual visits by certifiers and inspectors approved by USDA, and the Johnsons must satisfy rigorous review requirements and guidelines spelled out by federal law.
The Johnson's sprawling 2,400 acre operation ranks as being in the top 10 percent size-wise among all organic farms in South Dakota, and probably nationally. With markets for organic crops likely to continue expanding, the future for the Johnson farm and other organic growers looks promising. It's exactly the type of rewarding and gratifying scenario that would have caused Bernard Johnson to smile and then to pray for good food, good farming, and lasting peace.