Title: Crisis of Catholic Authority: Faith and Power in the Diocese of Lincoln, Nebraska
Author: Rachel Pokora
Publisher: Paragon House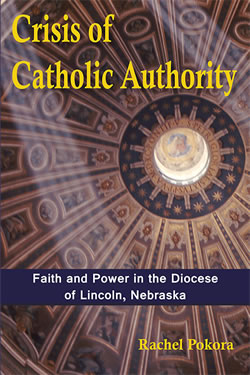 The flurry in the letters columns of the local press that accompanied the publication last September of Rachel Pokora's Crisis of Catholic Authority was a kind of belated echo of the media turbulence inspired in the spring of 1996 by the event whose history Professor Pokora recounts in her book: Bishop Fabian Bruskewitz's decision to excommunicate Diocese of Lincoln Catholics who belonged to the state chapter of the group Call to Action.
Formed in the 1970s, Call to Action is known for its advocacy of various institutional changes within the Roman Catholic Church: e.g., the ordination of women, the removal of the celibacy requirement for the priesthood, a larger role for laypersons in church polity. (It is not, and never has been, though the charge is often made, a pro-choice group.) In the spring of 1996, the national organization had about fifteen thousand members, about a third of whom were priests, nuns, or otherwise under religious vows, including a handful of bishops. The group's objectives would probably not strike many non-Catholics as radical, but they apparently seemed so to the leadership of the Lincoln diocese—often called, both as praise and as complaint, the most conservative Catholic diocese in the United States.
The Nebraska chapter of Call to Action held its very first meeting in February 1996. In March the Diocese of Lincoln announced that any member of Call to Action resident in the diocese who had not renounced his or her membership in the group by April would be excommunicated: expunged from the parish rolls and denied the sacraments, such as receiving communion or having a Catholic burial. With that announcement, the Diocese of Lincoln was suddenly in the national news, from Newsday on Long Island to the Los Angeles Times, from USA Today to NPR.
That same spring, as it happens, Rachel Pokora was hired for a position in the Communication Studies Department at Nebraska Wesleyan University in Lincoln; she assumed her duties that fall. Born and raised in the church, as she explains in her opening chapter, she had remained through her undergraduate and graduate education and the beginning of her teaching career an active and practicing Catholic (a point worth emphasizing, since people in American academia who are serious about churchgoing come in for a certain amount of teasing, not all of it good-natured). Moving to Lincoln presented her with a dilemma.
Obviously, she wanted to continue to practice her faith. She gradually discovered, however, that the members of Call to Action, excommunicate though they were, were closer in spirit to the religion she had grown up with than was the diocese that had decided to exclude them. She joined the group and eventually took a variety of leadership roles, leading to the composition of this book.
(Now that we have come to the main subject of this review, let me note, in the interest of full disclosure, that I teach in the English Department of Nebraska Wesleyan and that Professor Pokora is a longtime friend and colleague, as are a few other members of Call to Action Nebraska. Like anyone who has lived in Lincoln for a long time, I also have Catholic friends and colleagues who fully support the decisions of the diocese, as well as a few who would rather just not talk about it.)
Given her participation in Call to Action, Professor Pokora's account of the controversy is obviously not impartial, but she does try to be fair—Bishop Bruskewitz and other officials of the diocese are quoted frequently, often at length—and she does maintain a sober, temperate tone.
After her introduction, mostly cast in the first person, she devotes three chapters to a kind of precursor episode. In the early 1980s Bishop Glennan Flavin announced that henceforth only "instituted lectors" could read from the Scriptures during services. The most visible effect of this was the exclusion of women from this role, although many women had been doing so in Lincoln and elsewhere since the Second Vatican Council in the 1960s. In response, some local Catholics formed the group Catholics for Active Liturgical Life (CALL), seeking to be heard on this and other policies of Bishop Flavin, who seems to have sought to minimize or eliminate any participation by girls or women in church roles unrelated to cooking and cleaning. He also disapproved of priests wearing sandals or beards.
This episode sets the main themes of the later, more famous one: A group of Catholic laypersons hopes to be heard on some policy question of spiritual urgency to them; the local hierarchy responds by insisting on unconditional obedience.
The arrival in 1992 of a new bishop, Fabian Bruskewitz, led to an easing of some of the policies set by Bishop Flavin—though Bishop Bruskewitz emphasized that the adjustments had nothing to do with pressure from CALL—and the group disbanded in 1993. The need for some similar forum to discuss progressive possibilities with the Roman Catholic tradition led to the formation of a Call to Action chapter in February 1996, with the swift consequences outlined above.
Professor Pokora's presentation of this episode makes fascinating reading because she has done a convincing job of mining primary sources. Bishop Bruskewitz declined to be interviewed, but the Call to Action Nebraska archive does contain some of his official correspondence, and the diocesan newspaper, the Southern Nebraska Register, covered the events thoroughly from the hierarchy's perspective. The local media took great interest, as did the national media, especially the National Catholic Reporter, and Professor Pokora also takes full advantage of her access to past and present members of Call to Action Nebraska. On the evidence of these chapters, Professor Pokora is a talented interviewer; the testimony she draws from these individuals is rich, personal, thoughtful, and moving.
The narrative momentum temporarily falters, I would say, when Call to Action Nebraska seeks to appeal the bishop's interdiction, and we enter the labyrinth of canon law, where we encounter such entities as the Apostolic Signatura, the Congregation for Bishops, the Pontifical Council for the Interpretation of Legislative Texts, and the Congregation for the Doctrine of the Faith. This chapter—the book's longest—is a Kafkaesque misadventure in which the group cannot get any reliable answer to such questions as to whom the appeal should be directed, how it should be framed, or whether they will even be notified that the appeal has been received. Eventually, they give up.
In the meantime, the Diocese of Lincoln continued, on the one hand, to dismiss the group as small, inconsequential, and eccentric, and, on the other hand, to dog its every step, taking whatever opportunity arose to harass or humiliate it. Paradoxically, the group was both beneath the diocese's notice and the object of its intense and hostile scrutiny.
There are doubtless other American bishops who are as little fond of Call to Action as Bishop Bruskewitz was, but none followed his dramatic example. A few, like Chicago's Archbishop Joseph Bernardin, explicitly said they would not be following it. The national Call to Action group still counts among its five-digit membership a number of priests, nuns, and even bishops.
Fully unfolding the nature and scope of Bishop Bruskewitz's authority would require a blended expertise in church history, theology, and canon law that Professor Pokora makes no claim to possess. As a scholar in communication studies, however, with a specialization in organizational behavior, she is well qualified to discuss whether that authority was used effectively, and her conclusions on that question form the substance of her final and most powerful chapter.
We hear from members of Call to Action Nebraska throughout the book, and they continually impress by their devotion to their faith (some are daily communicants), their thoughtfulness, and their power to articulate their deepest convictions. They have rejected two obvious and simple options—obey the bishop and return to the fold or, as their non-Catholic friends often advised, find another, more progressive-minded church—and taken up an infinitely more difficult third way: to remain inside a faith tradition that holds an irreplaceable role in their lives but whose official representatives, at least those within certain particular boundaries, have told them to get lost. Many congregations would faint with gratitude to have people with these kinds of gifts and this kind of commitment. But the Diocese of Lincoln will not have them, unless they demonstrate unthinking submission. As Professor Pokora points out, such a policy seems obviously unsound. It is hard not to agree.
At the same time, by many measures the Diocese of Lincoln is flourishing and healthy. It is rightly proud of its schools and its success in attracting young men to the priesthood. Still, one hopes that Lincoln's new bishop, James Conley, takes at least a few minutes to skim this book and a few more to ponder it. As the new pope is demonstrating, letting in a little fresh air can be a wonderful thing.