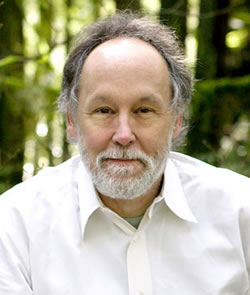 The ability to integrate environmental and humanitarian concerns in a compelling narrative is a rare talent, and the acclaimed nature writer Barry Lopez is one of the few who possess such skill. His fiction and nonfiction writings integrate interior and exterior landscapes by testing our ideas and ways of being, finding a way to connect them with the world we inhabit.
For Lopez, these connections take the form of story. The model Lopez offers in his essay "Landscape and Narrative" comes from the Brooks Range of Alaska. Sitting among a group of men in a remote village, he listened to their hunting stories, especially the ones involving wolverines. One tale in particular related how one of the scrappy "skunk bears" impressed a pursuing hunter, bowling the guy off his snowmobile and then giving him an uncanny look. The unhurt but thoroughly dislodged hunter just watched in amazement as the wolverine walked away. Talking from years of experience, these northerners were able to evoke something transcendent about their contact with the wild. As a writer, Lopez brings us there.
His sensitivity to a natural world that is underrepresented by the media and increasingly at risk from industry comes from many years of observation and extensive travel. The New York-born author has not always reported back from the field in written prose. For many years Lopez was a successful landscape photographer. However, due to a conflict between his artistic vision and commercial expectations, he gave up photography to write instead. In his essay "Learning to See" he argues for a form of wilderness literacy that cannot be found in the "light-writing" of the photographic medium. Besides often repressive market tastes, the constraints of the medium itself "tend to collapse events into a single moment," fragmenting the continuous flow of life in time into "dissociated bits and pieces." He put down his cameras in 1981 after the sighting of a polar bear in the northern Chukchi Sea confirmed his belief that photography distracted him from his work as a writer with big, moving stories to tell.
Environmental philosophers make a distinction between worldviews that place either humans or the natural world at the center of things. The first approach, and the one most common in our culture, is usually termed "anthropocentric." Everything is judged by its relationship to humanity. The second approach, termed "ecocentric," or sometimes "post- human," recognizes that we humans are just a small part of a vast web of relationships that we barely understand and that we need to humbly respect.
As an example of Lopez's posthuman perspective, one passage from his early fictional work, "Desert Notes," stands out. The narrator, a desert pilgrim very much like the author, recalls driving a van across an absolutely level alkali flat. Rolling across the smooth playa, he lets go of the wheel. He moves around inside the cab; he opens the doors and watches the ground below until it seems as if "the van were fixed in space and the earth turn[ed] beneath." Entering the desert via Lopez's "Notes," readers gain a perspective closer to the ground. They feel the movement of a living earth.
Lopez's writings roam the world from the steel and glass canyons of New York to the arroyos of the desert to the ice floes of the Arctic, but as he told Bill Moyers in 2010, he makes his home in Oregon, a place to which he has returned for 40 years. Explaining his complex history as transient, yet grounded in one locale, he likens himself to Chinook salmon:
They have to run a gauntlet, but they're there [in the river] every year… But I go like they do out into the ocean. And they bring back a story… Whatever work was given to me, it means go out there and look and come back and tell us … Come back and say what it is that you saw.
Such visions. Such stories.
While most identified with his travels to and writing about the Arctic, Lopez has engaged with many landscapes, including the Great Plains. Nebraskans will want to read "Winter Count," his collection of short stories set primarily on the American prairie. Traditionally, several Great Plains tribes recounted their histories in winter camps by retelling memorable events from pictographs on buffalo robes. In a similar fashion Lopez's collection of short stories imaginatively evokes Great Plains memories through fictional events such as an encounter between two bookmen in the Montana mansion of a past French settler, or a moment when an indigenous historian from the Sandhills becomes unmoored in time on the lecture circuit, or a legend of the ascension of white buffalo into the Medicine Bow Mountains of Wyoming. Like his writing in "The Rediscovery of North America," the interconnections between New and Old World discourses collide in "Winter Count," and a positive charge is given off.
Lopez's attention to indigenous sources is an honorable orientation according to which readers from both Native and post-Columbian nations can build alliances. In his memoir, "About This Life," Lopez traces his inclusive position to studies with the folklorist Barre Toelken at the University of Oregon in the late 1960s. Visiting with "senior Native American men, itinerant Asian poets, black jazz musicians, and translators" in Toelken's home, Lopez came to see a wealth of knowledge not to be found in the works of James Joyce, Chaucer nor Homer. He realized that, though he had gone to one of the best universities, his education had been sorely neglected. Toelken helped him integrate the European ideals he had learned in school with more traditional but equally valid values. Beyond Sigmund Freud and the Geneva Conventions were worldviews that "recognized the immanence of the divine in both" humanity and nature. This realization was not, emphatically, that he could speak for other cultures but that the ideology of modern progress was inadequate to really see the world. He learned to look outside.
Though he is primarily known for his writings about nature, one of Lopez's recent essays, "Sliver of Sky," explores his memories of a traumatic childhood experience. A duplicitous and predatory family friend, trusted for his work as director of a North Hollywood sanitarium, sexually assaulted him from the ages of seven to 11. This heinous abuse ended when his family moved back to New York in 1956, but the continually resurfacing memory of trauma plagued him for years. Lopez retraces his steps through a haunting maze of secrets and survival tactics in order to bear witness. His essay courageously confronts this past horror to help revise a narrative of suffering too many American men hold. He writes about his pain and healing in order to break our cultural silence on suffering, and, with honor, to let others bring him "back to the comity of human life."
Lopez's writing has consistently resisted the world's evil. His works tell stories that renew and balance our understanding of interior and exterior landscapes. Readers can follow him out to sea and return with the stories that renew.
Barry Lopez is widely considered to be the most important environmental writer of his generation. His books include "Arctic Dreams," for which he received the National Book Award, and "Of Wolves and Men," a National Book Award finalist. He has also published several collections of short stories. His many essays have appeared in numerous publications and have been widely reprinted and anthologized. Lopez will be the featured guest at an event hosted by "Prairie Schooner" on Sept. 30, at 7:30 p.m. in the City Campus Union ballroom. The event is free and open to the public. Lopez will read from his creative work, followed by an on-stage interview with award-winning Nebraska author Dr. Mary Pipher and a book signing.