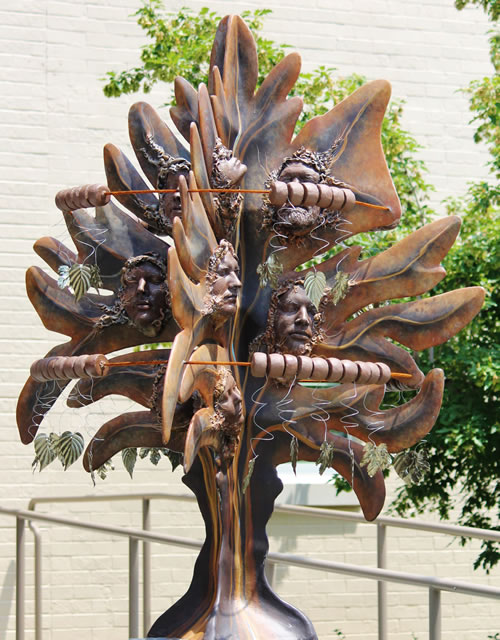 The conversations about tackling a public art project in Nebraska City, Neb., began in 2010 when the town adopted the new branding of "Arbor Day's Hometown—Where Great Ideas Grow." With support from the community, a grassroots effort led by volunteer representatives from local arts organizations, the public school board, area tourism and economic development, city government and others launch­ed and steered the project, entitled "An Enchanted Arboretum," toward realization. Area foundations and organizations, including The Paul, John, Anton & Doris Wirth Foundation; the Karl H. & Wealtha H. Nelson Family Foundation; the Kropp Char­itable Founda­tion, Inc.; the City of Ne­braska City (LB840 Funds); Rotary Club No. 2090 and United Way of Nebraska City, donated generously to build and ensure necessary funding for the project.
Unveiled this past spring, "An Enchanted Arboretum" now features 71 stylized tree forms designed by professional artists and Nebraska City students on display outdoors and in storefronts throughout the community in lead up to an Auction Event on Sept. 28, 2013. The genesis of the project is an interesting one to follow.
Last fall professional artists from around the country submitted 12-inch maquettes of proposed designs that were then juried by area arts experts for project inclusion. Of the 55 submissions, only 21 could be chosen. The majority of the artists selected to be a part of the project hale from Nebras­ka, including a number from Lincoln (Michelle Angle Farrar, Mindy Burton, Sharon Cech, Phyllis Maly, Shelley Stolten­berg, Corby Renard, Max Reis, Ann Williams) and Omaha (Eliska Greenspoon, Sue Kal­icki, Evelyn Katz, Jane Langenfeld and students of Mercy High School). Artists from other areas of Nebraska chosen included Jenni Brant of Nebraska City, Greg Holdren of Friend, Sharon Ohmberger of Firth, Franny Upp of Martell and Janelle McKain of Gretna. An artist from Minneapolis, Minn., Terra Rathai, was also selected to be part of the
project.
The professional artists received their blank sculpture or sculptures along with a materials stipend in January 2013 and set to work on their creations. Most realized their designs with the application of acrylic paint, but others adhered custom-made ceramic elements, as in the case of the Ohmberger and McKain trees, or created a canvas of mosaic glass, as Williams did with one of her designs. The sculpture blanks are a cast fiber-reinforced urethane manufactured by Icon Poly of Gibbon, Neb., which specializes in creating three-dimensional forms for public art projects throughout the United States.
At the same time that the professional artists were engaged in the creative pro­cess, students in Nebraska City Public Schools, Lourdes Cen­tral Catholic Schools and the Nebraska Center for the Edu­cation of Children who are Blind or Visually Impaired (NCECBVI) were busy imagining their own maquette designs under the direction of Lincoln, Neb. teaching artist Liz Shea-McCoy. This strong outreach component, inspired by collaboration with Arts are Basic, a partner program of Doane College, is a unique aspect of "An Enchanted Arboretum."
It was decided early in the planning stages that the project could go beyond beautifying the town and adding a new attraction to Nebraska City. It could also utilize the idea of public art to build community, engage youth and enrich the everyday educational experience. The project was delivered to teachers in a three-day summer workshop and then introduced into classroom curri­- culum with multiple onsite visits by Shea-McCoy that included instruction, creation and conversation about the artistic process. Classroom teachers and arts specialists were hands-on in the implementation of the project with their students. Nebraska City Public Middle School art teacher Mike Little championed the program from day one and noticed a real spark of enthusiasm as the project was integrated into his teaching.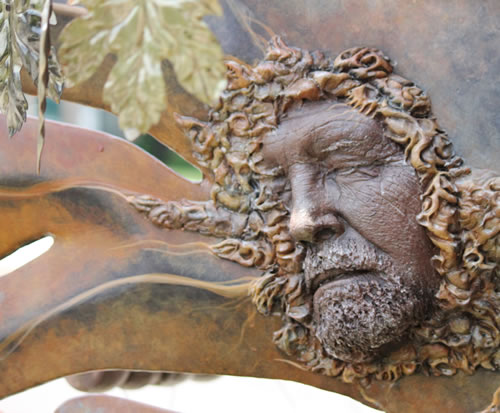 "I began to see students take ownership once the Enchanted Arboretum as a public art project was introduced to them." Little pointed out to his students, "While we may be studying a specific artist, it was more about the student bringing something of themselves to their design and how it might relate to their community. For my part, I was envisioning the possibility of an impactful, if not life-changing, experience for some of them."
When asked to reflect on the project, Chloe Higgins, a seventh-grade student of Little's, replied, "I think the Enchanted Arboretum project is really cool. It's a chance for kids to create something that will actually make a difference. All the kids in my class really got into it, even some of the kids who don't usually enjoy this type of thing."
More than 1,100 students participated in the project with all of the student maquettes featured at a public showcase at the Nebraska City Public High School in March 2013. The showcase event drew several hundred people from throughout the community. Some of the favorite maquettes at the event were those created by the students of NCECBVI, the state's center for education for children from infancy to age 21 who are blind or visually impaired. Many of the NCECBVI students chose to work with textiles, allowing them to "feel" their tree come to life. One student mixed sand with his paint to create an extra dimension. Another covered hers in Braille, repeating different tree-themed words.
Forty-six designs from first through eighth graders were chosen by teachers and local artists to be replicated by those student artists onto 4-foot tree sculptures. Ian Webster created the winning design to represent NCECBVI. His sculpture incorporated the idea of sound by attaching drumsticks and pieces of a drumhead that appear to flutter like a butterfly to his maquette. His finished sculpture is on display inside JJ Palmtag Realty at the corner of 11th Street and Central Avenue.
Four high school art students awarded 6-foot trees, the same size as the professional artist pieces. All student artists completed their trees at their school under the supervision of staff, parents and volunteers during before/after school and weekend painting sessions.
Now the completed 25 6-foot tree sculptures are placed in outdoor public spaces around Nebraska City, while the 46 4-foot student trees are displayed inside various businesses throughout the community. The current installation of the sculptures is temporary. On Sept. 28, 2013, all the sculptures will be auctioned off at a public event against the picturesque backdrop of Arbor Lodge in Nebraska City.
The live auction, kicking off at 2 p.m., will be structured in two phases with the 4-foot trees going up for auction in the first half of the event. A cocktail hour with heavy hors d'oeuvres and a cash bar will commence at 4:30 p.m. (paid admission required) followed by the auctioning of the 6-foot sculptures.
In order to ensure that some of the beauty of "An Enchanted Arboretum" remains in Nebraska City, those bidding on the 6-foot sculptures must be willing to permanently install the artwork within city limits. Bidders can select from one of the many predetermined public locations or place their sculpture on private property viewable to the general public.
Details about preordering a commemorative book, purchasing your very own maquette or buying Auction Event tickets are available at www.enchantedarboretum.org. Follow the project on Twitter at @ncpublicart or become a fan on Facebook for regular updates.