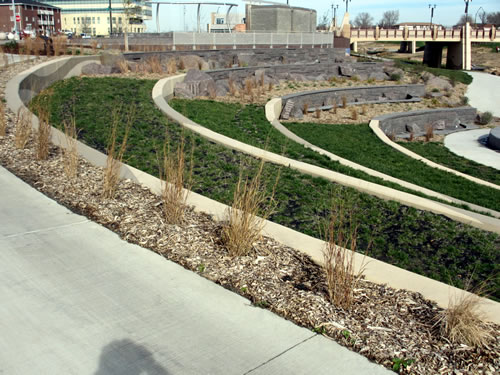 I'd intended to go to the opening celebration for Union Plaza, our new downtown park in Lincoln, Neb., last September, but was not able to attend. Instead, I visited a few weeks later, ready to have my breath taken away after seeing it from the O Street bridge—a real, bona fide park in downtown Lincoln. Fantastic. But stepping out of my car I was surrounded by concrete. There was a lot of concrete ahead of me and, if I squinted just right, I could almost make out some green in the distance. It was an auspicious start.
I walked the paths made wide enough for strolling families and passing bicyclists—the latter is what I have most experienced here, a safe thoroughfare for two-wheeled pedestrians. Union Plaza is rather dull and lifeless, cold and industrial. A few modest planting beds grace the margins and will some day fill in, but the expanse of drought-tolerant native buffalo grass leave much to be desired. There's no nature here. No reason to visit. No reason to stay. Granted, this may not be a sunken garden, but it sure isn't a park; it especially isn't the prairie, as tiled murals along the west walls would like to suggest.
Lincoln has and is currently undergoing massive civic construction—this park is one, the expansion of the downtown Haymarket (arena, hotels, etc.) is another. The grandeur of our new buildings—and roundabouts—outstrips the awe of our garden and green landscapes, which is a common problem with most cities. How we interact personally with our green landscapes as we walk them is often an afterthought to hardscapes—it should in fact be at the forefront as an educational and artistic tool demonstrating a city's diversity, creativity and regional roots. In other words, an awareness of what makes a city a city, how people live within the natural world and how they depend upon it; a public park should show how nature is not an escape or recreational weekend destination only but an everyday service to our bodies, our minds and our mental health. I find this all lacking to some degree in Union Plaza.
To me, this new park represents centuries of western didacticism. If you straighten the lines—and thank goodness they are at least curvy and mimic the flood channel—the park soon looks like Versailles. This tradition of overlaying a landscape with geometric lines is not only a sign of imperialistic/hubristic thinking, but in the contemporary landscape world of Wolfgang Oehme and Piet Oudolf (see the book "The New American Landscape"), it's simply outdated. When I look at Union Plaza, I see a small space trying to be something big in another century; I see Jefferson's grid that destroyed native ecosystems, native wildlife and native peoples.
I love the idea of this park. I love that people and corporations worked together to make it happen. I love that it can be a place for events and a place to stroll right downtown over lunch. But I do not want to stroll here. It does not invite me. It does not make me linger. It does not connect me to a place. It does not make me feel peaceful, reposed, transformed and transfigured like a garden should. I learn nothing. Can you see this in the photographs? It's plain and monocultured. Who will sit on the slopes of buffalo grass? Why would you? What's holding you to this place? To this city? Very little. Down by the channel is some nice hardscaping—man-made boulders beckoning us to sit by the water. However, nothing pulls you down to this space, nothing invites you in for a closer look, to linger, to be here.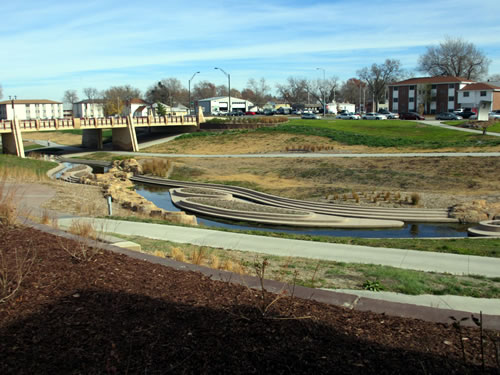 Many large spaces are wasted opportunities where waves of native prairie plants full of color, scent, texture and wildlife—requiring very little water or maintenance—could dazzle us. Place some plants on the upland slopes that like it dry, some that can take the periodic flooding down low. Deeply rooted plants that won't need supplemental watering and that won't get washed away. In the least there are spaces between the sidewalk and retaining wall that could be filled with coneflowers, milkweed, sideoats grama, indian grass, sunflowers, salvia, prairie clover and on and on. Right now, who is going to stop and sit here? No one. Who will walk by this on a rush to get somewhere else, up ahead where the eye is drawn to nearby buildings? Everyone. This is a wasted space with no wonder and no power.
There's a neat amphitheater for concerts and such. But all around it, and all around the parking areas and more, the plants are in uniform and linear distribution. When I see plants evenly spaced and in lines, I am incredibly bored. This is what you see "professional" landscapers do at big box stores and apartments—lines of grasses. Rows of one type of flower. The plants don't sing, don't mingle, don't paint a picture—they are forced into unnatural order, not representative of our prairie culture and lineage (though, I suppose, they do represent our cornfields quite well). Take the bank-teller-line of bluestem along the upper west sidewalk or the wary clump of chokeberry underneath a bridge.
All over the park are comparatively small beds with simple plantings evenly spaced. Lines and rows. Why? Is this representing, mirroring, contributing to the teachings espoused in the mosaics along some walls? Sarah Pearson Campbell's quote "Wilderness is a philosophy, not a boundary" seems blatantly defied here. Nearly 40,000 square miles of grassland and marshlands have been converted to cash crops in the upper and central Plains the last four years, so we desperately need a philosophy of wilderness—which is a boundless mass of sustainable diversity (just as people are). A mural of monarch butterflies and milkweed seed in flight is behind a planting of just Asclepias tuberosa, or orange butterflyweed; such a monoculture is anything but a butterfly habitat. I would love to see kids of all ages stop here and flutter with the insects, to engage with nature personally, to understand how beneficial diversity is in the world.
There is no wonder, joy or connection to landscape or nature in this park. Not yet, anyway. There is very little benefit to wildlife. There is no awareness of nature here, no way to teach people about their natural heritage, to connect them with the natural world, and no reason a child would linger here—except for the playground equipment on the northwest edge. This last point saddens me, especially after reading Richard Louv's "Last Child in the Woods." What's an alternative? What's modern, sophisticated, enriching, enveloping, what draws in tourists and sets a city apart? The Lurie Garden in Chicago and the High Line in New York. Native plants in waves and along pedestrian corridors, wildlife meccas, a destination, a place to linger and meet, a place to connect with each other and the world. A place to wander and wonder.
Union Plaza needs prairie. It needs Nebraska. It needs the Great Plains. Right now it's just another park, ho hum. It could be so much more with a few dozen bags of seed and maybe a "friends of Union Plaza" volunteer organization that goes out each March for a few hours to cut down the prairie plants, as I do in my garden—easy maintenance, four seasons of interest and impeccable wildlife value. Lincoln, we need prairie. We need our world and our lives handed to us just as in writing, painting, sculpture, music and dance—all evidence of a thriving community, just like a diverse prairie brimming with flowers, grasses and insects. Here's our chance.