October is Norris Alfred's birthday month. The late, great writer, thinker and Polk Progress editor would be 99 this year. Vincent Dowling, a good friend of Alfred's, has contributed the following reminiscence to help us pay tribute to the man who propagated the phrase, "Slower is Better."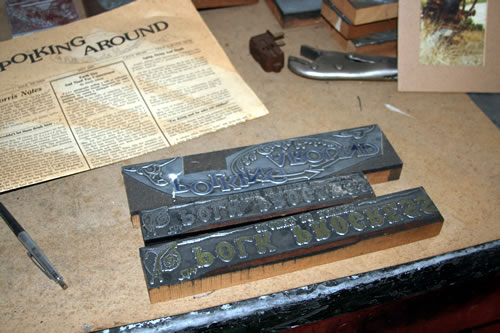 My wife, Olwen, and I think that there is a faint possibility that we have met some of you, the readers of Prairie Fire, in Polk, Neb., with Norris on our only visit together to meet the man himself. Appropriately it was July 4. I had visited Norris before at least once and would come and stay with him a number of times.
This was our first meeting with Norris, but we had been writing to him for several years, from Cleveland, where I had heard about him from his brother Ted, the chair of Case Western University Business School.
If we did meet you, it was probably in the very modest little space that served as Norris's office and newspaper publishing house. There he, and his staff of ladies produced the Polk Progress, addressed papers to readers and minded their children or grandchildren; or, we may have met in a modest Polk café or small bar, as Norris showed me around his beloved Polk, or when he took me out to enjoy his country friends, rivers and fellow bird-watchers.
Norris introduced me to many students, teachers, theater lovers and journalists in 1989–90 when I visited him on my way to Kansas City. I was promoting my production and direction of John Millinton Synge's "The Playboy of the Western World" for the Abbey Theatre, the national theater of Ireland in Dublin. As my final theatrical gesture as artistic director, I was taking this Abbey production on its first national tour of the U.S. since the mid-1930s. We had already negotiated an open run at the John F. Kennedy Centre in Washington, D.C. for "The Playboy," among 15 other major venues in the U.S., and I wanted to add one other state, and I wanted that state to be or to be very near Nebraska, where Norris Alfred would be a great help in getting the word out and audiences into the theater. During my visit with Norris, I clearly remember using his phone to talk with the Kansas City Star reviewer.
Olwen and I had spent spring 1992 in Malibu with her mother and her father, the great film actor Dan O'Herlihy. We had driven out west from our home in Massachusetts and planned to drive back. On the way back, we went through Ellsworth, Kan., where the painter Charles Russell had his studio and gallery. We had enjoyed his work several years earlier but hadn't been able to purchase, and we decided to try to rectify that. Unfortunately, Russell wasn't selling—he was buying back! But he remembered us, and we talked him into selling us a western work we wanted. Leaving Ellsworth, Olwen was driving and I was mapping, and I suddenly cried out, "Olwen, Polk, Neb., is only up the road! Spittin' distance!" "Like hell," she said. "Let's stop and see if we can find a phone anywhere and get through to Norris Alfred!" I said, and we did.
"I'd like you to meet the other Democrat in Polk," said Norris, as Olwen and I followed him around his tiny, tidy country town of Polk, on July 4, 1986. Norris, fair in every way, was in his late 60s, brimful of humor and a concern for the truth, and expressing a love for humanity, the birds of the air and decency in politics. We had known Norris a long time, since we had first made friends with him through his brother Ted, and we read every edition of the Polk Progress that Norris published, as well as everything he wrote as long as he lived. Minutes after Norris mentioned the existence of the other Democrat, Olwen and I, committed Democrats, were talking warmly with him. His name was Buck. A short man of straight stature with a hawk-nosed, deeply lined face. He asked me my age several times and seemed pleased that I was much younger than he was. He confirmed for us that all the other readers from Polk were Republicans and added, "As most of the people written up in the Polk Progress are."
Norris's readers around the world were, from my experience, the kind of people you'd want to have with you if you were marooned on a deserted island. His paper, with its masthead of two snails linked by the words "Slower is Better," spoiled me for most other newspapers for years to come. In case you think I'm going overboard, Norris was nominated for a Pulitzer. The only surprise is that he did not win it! He was as talented, wise, witty, fearless, generous and modest as a man, water colorist and writer could be. Did any two other Irish-born people have such a sense of middle America as we did, in Polk, with Norris, on that Fourth of July? I envy them if there were. He gave us one of the richest gifts we had ever been given.
Thank you, Norris. Thank you, Prairie Fire. Working on this memoir has brought back great memories!