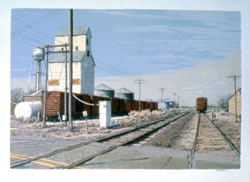 Born in 1932 in Omaha, Neb., artist Tom Bartek's career is the tale of a man and a city, and proof positive that, in fact, you can go home again (with apologies to Thomas Wolfe.)
Three Omaha galleries will celebrate Tom's 80th birthday in 2012 with simultaneous retrospective exhibitions of his work. After 60 years of productivity, Bartek has provided much for the curators to choose from.
Bartek may perhaps be most widely known for the serigraphs he created from 1971 to 1986, many featuring a country still-life on a checkered tablecloth in front of a window that looks out on a rural farm scene. Using a silkscreen process that laid colors down in separate passes, and in signed, numbered editions that ran from the low 10s up to 500, Bartek captured the natural simplicity he treasured when visiting his family's farms near Weston, Neb., as a youth. A prairie populist at heart, he chose printmaking in particular for its affordability for consumers, as a time-honored way to make art available to those who might not otherwise be able to buy it. At the peak of their popularity, these prints were distributed nationally by Ferdinand Roten Galleries, Macmillan Publishers and Brentano's. Given the quantity made and sold, it's estimated that approximately 10,000 individuals have Bartek's artwork in their homes or offices.
So it is perhaps surprising that the hometown artist behind these bucolic images also studied at the prestigious Cooper Union Art School in New York in the 1950s, lived in a loft above a synagogue on the Lower East Side and forged friendships with experimental filmmaker Stan Brakhage (a grittier contemporary of pop artist Andy Warhol's) and beat generation-influenced poet Jack Collom (who teaches at the Jack Kerouac School of Disembodied Poetics at Naropa University in Boulder, Colo.).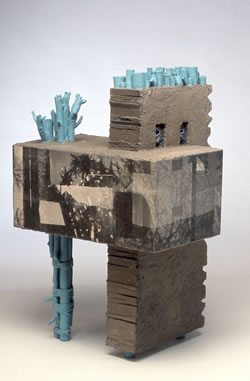 Bartek's prolific career runs the gamut from fine to popular art. He also creates sculptures, or what he calls assemblages, both freestanding and wall-mounted. And paintings. And drawings. And photographs. And films. In styles that range from representational to abstract expressionist, from traditional to experimental, his art is on view in institutions from Mexico City to Tokyo. He's exhibited his work in galleries on the East and West coasts and all over the Midwest. And his work is in the corporate collections of Conagra, CenturyLink and Scoular, as well as the U.S. Federal Bank Reserve.
If the push/pull between art and commerce informs Bartek's work, he comes by it naturally. He grew up in South Omaha and attended Creighton University before joining the Air Force in 1953. He married his high school sweetheart, Gloria, and the two lived in New York, where he attended Cooper Union, after he left the military. The couple, with a growing family, returned to Omaha in 1961. The Omaha Sun ran an extensive profile on him soon after. He worked as exhibitions manager at the Joslyn Art Museum, and he taught at Joslyn and at Creighton University. Leonard Thiessen at the Omaha World-Herald reviewed Bartek's shows in the '60s, as did subsequent art critics at the paper for the next three decades.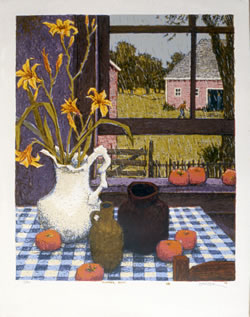 In a sense, both the artist and the city have left their marks on each other. In honor of Nebraska's 100-year anniversary as a state in 1967, Bartek designed the glass murals that still adorn the Woodman Building in downtown Omaha. In 1975 Opera Omaha commissioned him to design and produce a promotional poster using his serigraph press.
In the years following Bartek's return, the art scene in Omaha was in flux, due to trends from without—the influence of abstract expressionism in particular—as well as developments from within. In the '60s and '70s galleries such as the Artists' Coop and the Craftsmen's Guild were opening in the Old Market, the latter run by Ree Schonlau, who would later start the Beemis Foundation. Jo Ann Schmidman and Megan Terry wrote and premiered experimental plays at the Magic Theatre. Gloria Bartek and Louise Farrell edited an alternative newspaper, The Buffalo Chip. Local artists were trying new things out, with the result that conventional and avant-garde pieces sometimes stood side by side. And in a watershed place and time, perhaps no one particularly cared to draw attention to the difference.
Bartek's work is in some ways a product of this time and place, an eclectic mix of familiar and edgy. For this retrospective, representative works will be featured in three galleries. His paintings will be on display at the Lied Art Gallery at Creighton University from Sept. 14 through Oct. 19. His serigraph prints along with some paintings will be on view at the Fred Simon Gallery at the Nebraska Arts Council from Sept. 24 through Nov. 2. And Bartek's assemblages will appear at the University of Nebraska's Art Gallery from Oct. 5 through Nov. 8, along with three-dimensional print collages by his contemporary, Thomas Majeski.