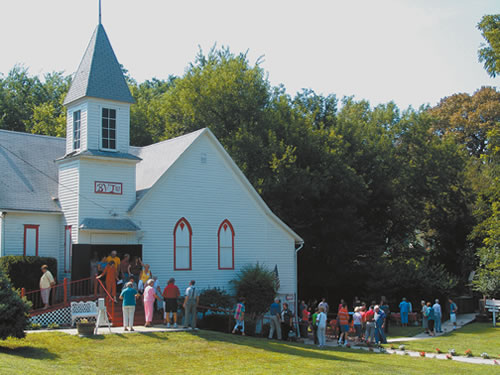 This time of year has always found me longing for home. The trouble is that, like millions of other Americans, home has become a mythic place—a place many of us have only heard of in old family tales and country songs.
Due to the transitory nature of our lives, most of us live in many places throughout our lifetime. I've moved dozens of times and lived in more than 20 states and countries. Home to my children were the pictures we hung, the blankets we slept under and the dishes we ate from. Home to me was my children, but they grew older and moved away to find their own homes—leaving me homeless.
A few years ago my husband, Jay, and I began searching in earnest for home. We knew home was in Nebraska—just not exactly where. Our childhood families had roots in Nebraska. My husband and I explored every spare weekend, occasionally straying to South Dakota, Wyoming, Missouri, Kansas or Iowa. Nebraska continued to call to us, and we finally zeroed in on Brownville after about five years of intense investigation.
We found our heart's home in this lovely village of 146 people, established in 1854 on the western bank of the Missouri River in Nebraska Territory. Brownville, designated as a National Historic District in 1970, is known for many Nebraska firsts, including the first telegraph office, the first newspaper and the first homestead claim.
Brownville is a place where home isn't a myth but a reality. Many of its citizens are the fruit of the village's, and indeed the state's, founding families. Names like Furnas, McComas, Kennedy and McInnich still carry weight in this town. People here are connected to each other in an authentic way and welcome newcomers gladly. Our first day in town we were greeted and embraced by one of the village's leading ladies. We walked around and noticed all the bookstores, museums, charming old homes, galleries and studios, winery and boutiques, and fell in love. We found home, and bought a house there the very next day.
I'd like to invite you to my home—Brownville, Neb. The holidays here are just like you dream they should be: quiet and lovely, with good food, good wine, good music and good friends. People here still make handmade brooms, fishing nets and pies. The riverboat runs and the wine flows. The nights are still and starry, and the days are filled with flora and birdsong.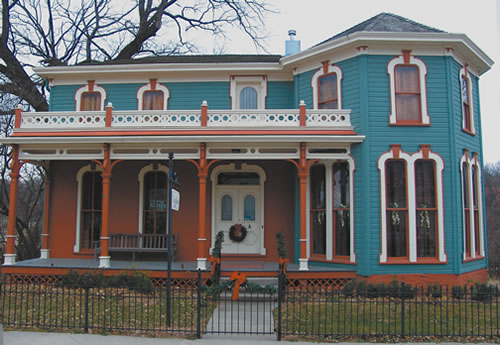 Please visit us this holiday season. The Brownville Historical Society is opening its premier museum, The Carson House, to the public and has dressed it in seasonal finery. Tours will be given on Nov. 22, 23, 29, 30 and Dec. 5, 6, 13, 14 from noon to 4 p.m. The house will be beautifully decorated and holiday refreshments will be served in the spacious lower-level formal dining room. Tickets may be purchased at the door, $5 each; children nine and under free. On a side note, Brownville's Gov. Robert W. Furnas, Nebraska's second governor, helped establish the Nebraska State Historical Society and was its president in 1878.
Brownville has a long history of supporting the arts. The Brownville Village Theatre will celebrate its 43rd year of providing repertory theater next year, and The Brownville Concert Series will celebrate its 19th Christmas by presenting "The Gala Christmas Show" featuring Craig Rubano at the Brownville Concert Hall on Dec. 5, 6 (7:30 p.m.) and 7 (2 p.m.). New York City's "Town & Village" said of Rubano, "Handsome, witty, with a beautiful baritone voice. Who could ask for anything more?" Call 402-825-3331 for more information or for reservations.
Brownville's Outfitters' Row merchants will host a Holiday Open House on Nov. 22 and 23 from 11 a.m. to 4 p.m. This is a great opportunity to do early Christmas shopping, plus enjoy the sights in Brownville, including the village's large lighted tree, which is set to music. The Brownville Fine Arts Association will have a special exhibition, holiday gifts and Christmas cards in the School House Art Gallery. Luminaries will line the Whiskey Run Creek Trail, providing a wonderful opportunity to stroll by candlelight and enjoy the beautiful "Walk Through Brownville."
So come on home for the holidays. For more information, visit www.Brownville-NE.com or call the Brownville Visitor Center at 402-825-3968.