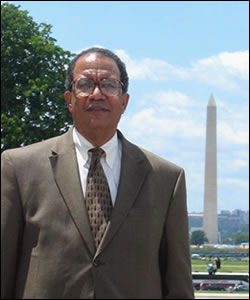 "Sonny's Corner" is a regular column in Prairie Fire, featuring commentary on civil rights and justice issues. Our friend and Omaha colleague, Joseph P. "Sonny" Foster, died suddenly at age 54 in August 2005. He left an uncompleted agenda, as did many of our civil rights and justice mentors and heroes. We shall attempt to move forward on that unfinished agenda through this column.
During the late summer and fall of 2008, I had the honor of serving as the state director for the Obama for America campaign in Nebraska. From several different standpoints, the campaign in Nebraska was a historic one. History was made just by virtue of the ballots—it was an election that included a black American at the top of the ticket as my party's nominee, and had a woman vice presidential nominee on the other side. In addition, for the first time in 40 years, a Democratic presidential campaign had a significant presence in Nebraska, where we actively sought votes from Nebraskans for our party's nominee. We also worked to, and ultimately were successful at, splitting away one of the state's electoral votes for then-Senator Obama, invoking for the first time a 1991 law that allows for such a dispersal of electoral votes. Incidentally, Nebraska is one of two states that allows for such a split; Maine is the other. Finally, we reached near record turnouts as heated campaigns for the presidency, Congress and local races drove voters to the polls.
History will judge this election in the context of these facts, and the election could be deemed as a very important one from the perspective of all that was achieved. Unfortunately, there may be a few items lost in the rose-colored lenses that we will look through in a year or a decade. Those items relate directly to ballot access and the relative ease or lack thereof that one experiences while exercising that right.
Nebraska, like many other states, has a very liberal statutory early voting process. Starting on Sept. 29 of 2008, any registered voter, for any reason, could cast their ballots early at a designated early voting location, and people could continue to vote in person at this designated site through Nov. 3. By mail, the early voting process was even simpler and longer. One could begin requesting ballots by mail as early as July 6 and could do so through Oct. 29. Also, individuals eligible to vote but not yet registered could register to vote in person through deputy registrants or by mail with similar deadlines built into the process: The last day for mailed-in registrations to be postmarked was on Oct. 17, and the last day for in-person registrations was Oct. 24.
In the 2nd Congressional District of Nebraska (CD-2), thousands of voters took advantage of these rules related to early voting and voter registration. In Douglas and Sarpy counties, there were thousands of new registrants and record-breaking numbers of early voters—to the tune of nearly 68,000. While these numbers represent great success, there were issues.
Our campaign, amongst other groups, argued mightily, from the very beginning of the fall campaign, in favor of the election commissioner in Douglas County to open satellite polling locations in the county. While we were unsuccessful in those arguments, what ensued during the early balloting season reinforced the concerns that we had communicated to the election commissioner, the secretary of state's office and any election official that would listen: Because the early balloting location was situated at the county election commission in both Douglas and Sarpy counties (Sarpy County was less of an issue as the election commissioner's office is located at the County Courthouse Complex in a generally centralized location), there were major issues in Douglas County related to voters being able to find these locations. The location is difficult to get to, the directions are confusing even to those that have lived in Douglas County for some time and the office is not directly on a bus line. There is a parking lot at the facility that is wholly inadequate for the turnout that was anticipated and realized, and the space is small and eventually was crowded with the throngs of individuals that came to vote early. This led, throughout the early voting period, to two- and three-hour waits for individuals to cast their ballots early. Had there been even one or two satellite locations that were opened for this early vote period, the process would have worked much more efficiently with shorter lines, and would have afforded people a better opportunity to exercise their rights early. This would have had the added benefit of relieving the long lines that we experienced on Election Day. On the several different occasions that we at the campaign requested this happen, we were told no for various different reasons: (1) We did not ask in a timely fashion—though we asked during our first meeting with the election commissioner in August; (2) It was a logistical "headache"—though in our minds, it would have helped to avoid the logistical nightmare that ensued at the election cmmissioner's office; and (3) A plan for satellite locations in 2006 was in place and was opposed by several political interests—though 2008 was different than 2006 in many aspects, not the least of which was the anticipated and then realized turnout.
In lieu of the satellite voting locations for early voting, we requested and were rebuffed on a proposal to allow the one early voting location at the election commissioner's office to remain open late on weekdays and open on Saturdays through the early voting season. The poll was only open from 8:30–5:00, Monday through Friday, meaning that anyone with a job may have had to take two to three hours to vote. This is unacceptable. A similar plan was adopted by the Lancaster County Election Commission very early on in the early voting period. We were dismissed, based on limited staff time and resources, time after time as we requested this move throughout the early voting period, though we were told from members of the Douglas County Commission that resources should not have been an issue and that the election commission is routinely underbudget for their operations. Further, even in the event that there were resource issues, it was our contention that one cannot spend enough money to ensure that someone's most basic and cherished right, the right to vote, is protected and afforded in the most convenient way possible.
Looking through the rearview mirror as to what ensued with long lines both during early voting and on Election Day, I continue to believe that we were correct in our suggestions and requests. I further believe that had the election commissioner acquiesced to our requests, many of the issues that arose during these voting periods would have been avoided on both sides. This was not about the success of the campaign but rather about affording all the opportunity to vote efficiently, and to do it early as voters had been told to for the entirety of the fall.
In the end, the outcome was wonderful. It wasn't good that people were standing in line for hours on end during early voting or on Election Day from an efficient government standpoint, but what an illustration of an excited electorate trying to participate in democracy. It truly was beautiful! I just believe that we could have done better in making it easy to vote. That should ultimately be a goal for all of us involved in politics and government. I am hopeful that I'm not the only one that believes this. I am hopeful that elected officials, party leaders and campaign directors will continue to work toward a goal of 100 percent participation, and recognize that there are statutory tools that can get us there.
Sonny would be pleased at the outcome of this election to be sure, but I believe that he would raise many of the same issues that I am raising here. Everyone should vote; it is each person's responsibility as a citizen and as a "supervisor" of those that they elect. But it is also up to the government to make that process as easy as possible—that's what Sonny would say, and that's what I think we should work toward.