This November 2008 essay describes the current exhibit at the Bone Creek Museum of Agrarian Art in David City, Neb. The article uses guest artist Michael Duane's painting, "David City Tornado," to show how an artist's passion for his subject lets him make potentially great art that could not be made with technical skill alone.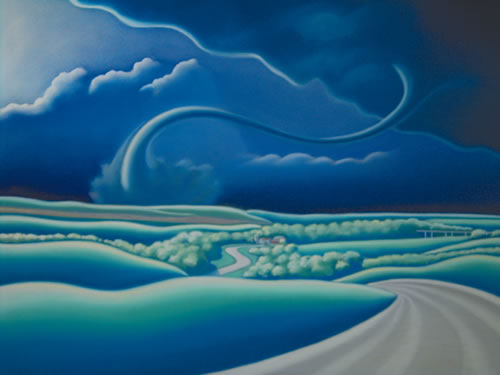 "Wow!" Seven-year-old Michael Duane stared in awe at his first tornado. Today, 42 years later, Duane is a fine artist infusing his paintings with some of the "wow" factor that he first felt as a child.
Such passion is an important ingredient for producing fine art worthy of museum collections. A clever artist can make a good picture from nearly any subject; however, a great work of art is more likely to happen when an artist cares deeply about his or her subject.
Michael Duane paints dramatic abstractions of weather dominating the land and mankind. The F3 tornado Duane saw in 1966 at age seven has shaped his life and his art. He called it "fearful excitement." He is obsessed with severe weather. He saw his second tornado in 1977. His third tornado was in Minnesota, and he's seen numerous funnel clouds during his life. He's been known to "lose himself" looking at storm clouds and "find himself" many hours later, hundreds of miles from where he started. Duane is a storm chaser, seeking severe weather as source material for his "skyscape" paintings.
Duane's compelling interest in severe weather is what allows him to have the insight and vision to make his paintings. He realizes the vision with intuitive use of good skills in design, composition, technique and style, as well as good work habits. With these ingredients, Duane is making some unique and potentially great works of art.
Duane had the tools to make art when he got his B.A. in fine art/design from the University of Kansas in 1980. It took over 20 years for him to realize that using severe weather as his subject would put passion and life into his work. In 2001, he finally discovered the artistic expression of "skyscapes," combining his lifelong fascination for the weather, with his artistic skills and inclinations.
"I finally found a way to combine my passion for art with a subject I'm equally passionate about," says Duane. "I won't hesitate to go outside to experience and feel the drama that's created by Mother Nature. I observe the clouds and their movements, then I might try to get inside before I'm soaked. It's through experiences like these that my art evolves."
In the Bone Creek exhibit, we see Duane's work evolve from small paintings of tornados in 2001 to large, complex and very dramatic abstractions of all kinds of severe weather in 2008. There are majestic thunderclouds lit by the sun and towering high above the earth. There are dark, threatening clouds that fill one with dread. There are angry clouds that make one want to run for cover. There are clouds in motion with incredible shapes. There is sharp lightning against dark sky over fragile buildings. There are clouds with sun and moon. There are great anvil-shaped wall clouds. There is streaming majestic light coming through clouds. Of course, there are also menacing and mesmerizing tornados, the "fearful excitement" source of Duane's first inspiration.
 "David City Tornado" is an exceptional example of Duane's recent work. First he sees and experiences a storm or impending storm. In his studio, he then uses that as a point of departure for creating something with great drama in composition, color and value. He adds whimsical land forms and symbols of man's fragile presence in the face of a dominant Mother Nature. "David City Tornado" is a stylized expression that is quite different from what Duane actually experienced firsthand. In this painting, Duane creates a defining moment that reinvents the severe weather and lets the viewer's imagination run wild.
This artwork is an awesome, one-of-a-kind painting because of Duane's passion for the subject. The painting could only come from Duane. While it is well crafted, that is not enough. The painting is ephemeral. It is captivating and exciting. It was not observed and painted in the manner of a traditional landscape painting. It has a unique point of view. It is ambiguous. It is dangerous. It is living on the edge. It is symbolic of man's temporary presence in the face of the great power of Mother Nature. It is an invention coming from the artist's heart and mind. It is indeed very fine art that may stand the test of time.
I was fortunate to see one of Michael Duane's first "skyscapes" in 2001. That painting is in the collection of the Great Plains Art Museum. Duane's fine art is now recognized from coast to coast. He's won numerous awards in juried exhibitions from Cape Cod in the East to Seattle in the West. He's a master pastelist of the Mid-America Pastel Society. Bone Creek Museum of Agrarian Art is proud to be the first art museum in America to present a full exhibition of Michael's unique, contemporary agrarian paintings.
The overall impression of the Bone Creek exhibition is one of great drama due to what is happening, as well as what is about to happen. This is characteristic of the weather. It is also characteristic of Duane. For example, he loves sports. He is an avid fan of the Kansas City Chiefs even though they aren't winning right now. He loves the action as well as the anticipation of the action. This is also part of his artistic temperament. The love of such drama is a great asset for Duane in portraying severe weather, both for what one experiences as well as for what one anticipates.
A tornado is tattooed on Duane's left shoulder. A thunderbird tattooed on his right shoulder represents thunderstorms in Native American culture, part of Duane's heritage. The tattoo images represent a combination of his passion and his spirituality. He also wears these symbols on his clothing. At the exhibition reception, Bone Creek personnel, the artist and the public wore attire and accessories with images of clouds, thunderbirds and tornados. In the spirit of the exhibition, visitors are encouraged to continue this fashion statement.
The exhibit includes background sounds of the weather. When you come to see the exhibit, you will pass under great expanses of the sky and clouds that inspire Duane's paintings. This is an opportunity for you to get into a good frame of mind to view the exhibition. Please drive safely and watch the weather.
Bone Creek is America's only museum devoted exclusively to agrarian art and hosts exhibits of exceptional agrarian art. "Skyscapes" is such an exhibition. Because agrarians live by the weather, the exhibit is especially appropriate in this venue. The exhibition runs from Nov. 19, 2008, through Jan. 25, 2009, at Bone Creek Museum of Agrarian Art, 575 E Street, David City, NE 68632 (I-80 exit 379, north 33 miles on Highway 15 to E Street, then right 1.5 blocks); 10 a.m. to 4 p.m., Wednesday through Saturday; 1 p.m. to 4 p.m., Sunday; appointments and tours are available. Please call 402-367-4488 or visit www.bonecreek.org for more information.