Danish biofuel producer chooses Blair, Neb., as the site for a new production and distribution facility - potentially for cellulosic ethanol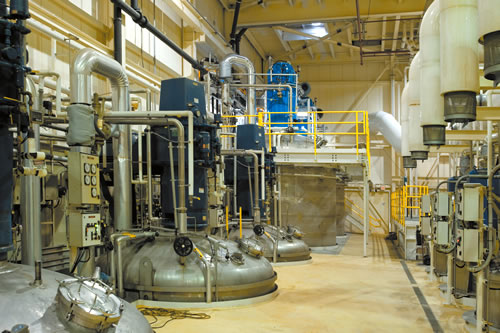 Almost 20 years after Kevin Costner transformed an Iowa cornfield into an historic major league baseball reunion, a new "Field of Dreams" is taking shape in the heartland of America. From the cornfields of the Midwest to the fuel in your vehicle, ethanol is leading the evolution to renewable energy.
The world is facing a growing energy crisis. Energy consumption is steadily increasing, global warming is a reality and oil reserves are diminishing. Soaring gas prices and international tensions have quickly turned our dependence on foreign oil into a top priority that the United States must address. The need for alternative, renewable energy sources is obvious, but the question remains—how to best meet that need?
Novozymes, a Danish bioinnovation company and world leader in the production of enzymes, is playing a key role in the advancement of the ethanol industry. The company currently provides more than 50 percent of the enzymes required to produce ethanol in the U.S., and has set its sights on leading the so-called second generation of biofuel—cellulosic ethanol—as well.
Novozymes recently selected a 30-acre property at the Biorefinery Campus in Blair, Neb., to build a new production and distribution facility. The company expects to invest nearly $100 million in the plant, and to bring approximately 100 new jobs to the area.
Although Novozymes' technology is used in more than 30 industries around the world, the Blair facility will initially focus solely on the production of enzymes for ethanol. "First generation" biofuel is currently produced from crops such as corn, sugarcane and wheat. However, Novozymes is also committed to having "second generation" or cellulosic enzyme technology commercially available by 2010. Cellulosic ethanol will be produced from agricultural by-products such as corn stover, wood chips, switchgrass and even certain types of municipal waste. The Blair facility will be capable of supplying enzymes for both types of ethanol production in the near future.
The Novozymes plant will be able to produce enzymes for cellulosic ethanol with an expansion of site facilities (projected for 2012) and the introduction of a new specialized strain of enzymes. Whereas corn is comprised of simple sugars that allow for easy breakdown into fermentable sugars, cellulose is a much sturdier substrate. Cellulases such as wood and corn stover have a much more rigid cell structure that nature has perfected to maintain over time and not degrade easily.
As a result, the production of cellulosic ethanol introduces a couple more steps into the manufacturing process, including pretreatment of the biomass, which helps deconstruct it and prepare it for the further breakdown by the enzymes into fermentable sugars.
Why Blair? 
With the entire globe to choose from, why did Novozymes choose Blair, Neb., as the site for its new production facility? There were many factors considered in making the decision but the following two had a large impact: (1) The U.S. is the largest producer of ethanol, and (2) The majority of our customers are located in the Midwest. As a result, Blair was a logical choice for location of a plant that will be dedicated to producing and distributing ethanol enzymes. The Midwest region is home to the largest concentration of current and proposed ethanol plants, which puts the company closer to its customers and the vital raw materials necessary to produce ethanol.
Other key sites were considered, and all were worthy choices, but Blair was especially attractive due to its first-rate existing infrastructure of utility and transportation services and its well-educated workforce. Novozymes will tap into the local workforce to fill a variety of positions. Engineers, managers and staff-level personnel will be needed in areas such as production, quality control, supply chain operations, human resources, finance, purchasing and administration. Many other jobs will be in the form of hourly positions, including chemical operators, material handlers, maintenance mechanics and other technicians.
Why ethanol?
U.S. ethanol production is growing rapidly, and in 2007 it replaced 228 million barrels of foreign oil—worth $16.5 billion. This alternative fuel is already saving Americans between 20 and 50 cents per gallon at the pump, and has many other measurable benefits.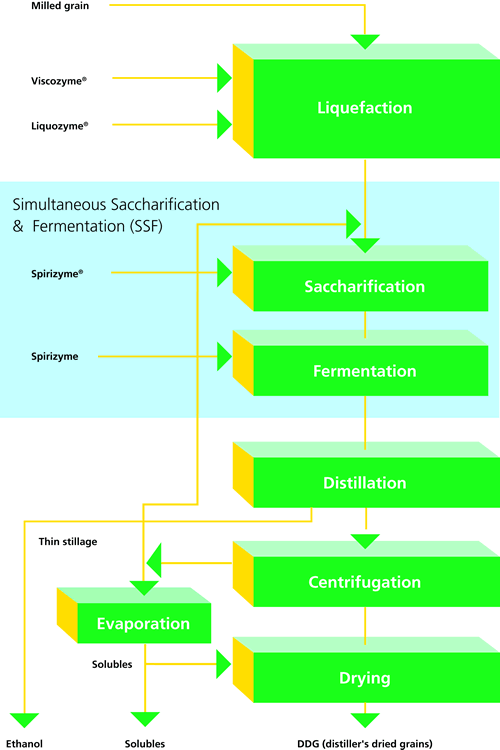 Ethanol production can provide a significant economic boost, especially in rural areas. The industry has already created more than 200,000 jobs and generates billions of dollars in tax revenue each year.
In addition to being a viable alternative to traditional energy sources, ethanol is the only currently available option for reducing CO2 emissions. First-generation ethanol can yield up to 30 percent to 70 percent reduction, and cellulosic ethanol technology is expected to reduce carbon emissions by more than 90 percent.
Novozymes is the world leader in enzyme technology for biofuels. The company's enzymes make it possible to use each component of energy crops with little or no waste. In addition, Novozymes' continued heavy investment in research and development allows the company to continuously optimize the performance of its enzymes, thereby reducing its costs and the overall long-term costs of ethanol production. This ability to "make more with less" ensures that ethanol production is both efficient and sustainable.
What's next?
Groundbreaking for Novozymes' new production facility in Blair is expected to take place in April 2009. The plant's first blending operations should be online by October 2009, and full production of first-generation ethanol enzymes is anticipated to begin toward the end of 2010.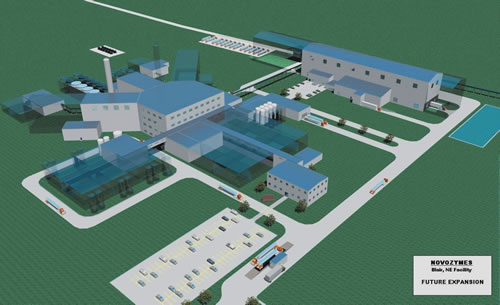 The new facility represents much more than simply a manufacturing plant. Novozymes is committed to its investment in the Blair community. The company has a long tradition of providing innovative technology, high-quality jobs and strong community support to the regions where it operates. Local hiring for the first of approximately 100 jobs is expected to begin in January 2009.
Novozymes is excited about its Midwest expansion, and is grateful for the tremendous support the company has already received from state and local officials and economic development groups. Novozymes' new partnerships with Nebraska Air Quality Specialties and HGM Associates will also help ensure required air and water permits are received to keep the construction process on schedule. Their expertise is crucial to helping us assure environmental regulatory compliance for Novozymes' new plant.
Rethinking tomorrow
The future of alternative fuels is promising and closer than you think. Novozymes is committed to ongoing research and development, especially in the advancement of second-generation ethanol technology. The company will deliver commercially viable enzymes for the production of cellulosic ethanol by 2010. Meanwhile, the rest of the industry is working diligently to prepare the infrastructure so that we are all ready for a new world powered by biofuels.
Ethanol will help to secure our future energy supply, reduce the environmental impact of the transport sector and create economic growth. Novozymes believes this alternative fuel is an important first step toward reducing the world's dependence on oil and maximizing use of our limited natural resources. As opportunities with various types of biomass continue to develop, the possibilities of using these renewable resources to replace other materials and chemicals are endless. And you can bet that Novozymes will be there.