In addition to being a world-class conference and leisure destination, The Lied Lodge & Conference Center puts conservation principles into action

You don't have to travel far to experience the wonders of a world-class conference and leisure resort destination. That's because there's one located much closer than you think.
Lied Lodge & Conference Center sits nestled among thousands of trees at Arbor Day Farm in Nebraska City, Neb. The lodge provides a peaceful setting for businesses of all shapes and sizes that desire an off-site facility without getting on an airplane and wasting valuable time and money traveling to and from a faraway "destination."
Of course, once visitors experience everything Lied Lodge has to offer, they discover Lied Lodge is the perfect spot for both work and relaxation.
Union Pacific has used Lied Lodge & Conference Center for its leadership development program every year since 1998. About half the participants of the program work in Nebraska, while the rest are scattered throughout the United States.
"We love using Lied Lodge because it's away from the office and it's so beautiful there any time of the year," said Corinne Dougherty, human resources training manager at UP. "It's a place where people can do a lot of things at one place. It's perfect."
The University of Nebraska Foundation has used Lied Lodge for an annual two-day meeting of department leaders and vice presidents. The location is ideal for the University of Nebraska Foundation, which has offices in both Lincoln and Omaha.
"It's really convenient—it's not too far away, but it's far enough where we can be free to focus on what we need to do," said Sara Semin, senior executive assistant at the University of Nebraska Foundation. "Plus, the staff at Lied Lodge is great. This is my seventh year of helping to plan our retreat, and after the first year it's been nice to pick up the phone, say we're coming back and have the staff at Lied Lodge know exactly what we need."
Lied Lodge & Conference Center meets the needs of conferences and gatherings large and small. The Nature Conservancy, a conservation organization that works to protect ecologically important lands and waters for nature and people, recently held an international training conference at the facility. The World Forum Foundation has twice selected Lied Lodge to hold a Working Forum on nature education for children that drew hundreds of participants from 30 nations and six continents.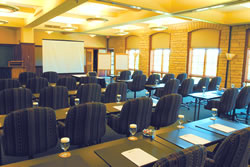 Lied Lodge & Conference Center was specifically designed to inspire creativity. Meeting rooms include the latest technology and on-site technical support. In addition, experienced conference planning managers provide complete customized meeting packages that anticipate all attendees' needs.
"Our desire is to provide a convenient, comfortable and naturally inspiring setting for our guests, whether they're here for business or for pleasure," said Doug Farrar, vice president of Arbor Day Farm, who oversees Lied Lodge & Conference Center. "Creating a positive overall experience and exceeding our guests' expectations is what sets Lied Lodge apart."
The lodge provides the perfect spaces for meetings and retreats of all sizes. Meeting rooms are available to accommodate as many as 400 attendees, and there are intimate parlor rooms for a small group of people. Other special features of Lied Lodge & Conference Center include
Assistance with overnight accommodations at the lodge, which includes 144 guest rooms designed for comfort;
Complete meal package pricing and fine dining prepared by the award-winning staff of the Timber Dining Room under the direction of executive chef Nick Maloney;
Scheduling of food service events, including menu planning;
On-site audio-visual services and equipment and high-speed Internet access in each conference room;
Coordination of extracurricular activities such as spouse programs, tours, wine tastings and special activities offered throughout Arbor Day Farm.
Guests at Lied Lodge can enjoy many relaxing attractions. Lied Lodge is located at Arbor Day Farm, a 260-acre historic landmark dedicated to conservation that was once part of the estate of J. Sterling Morton, the founder of Arbor Day. Some of the attractions of Arbor Day Farm are the Tree Adventure, where visitors can climb a 50-foot-high tree house; the Apple House (which was part of the original Morton Orchards); the Lied Greenhouse; the new Discovery Ride in which passengers can explore nature close up; Nature Explore Classrooms and scenic trails.
Guests can also play golf at ArborLinks, a nationally renowned course designed by Arnold Palmer and located adjacent to Arbor Day Farm.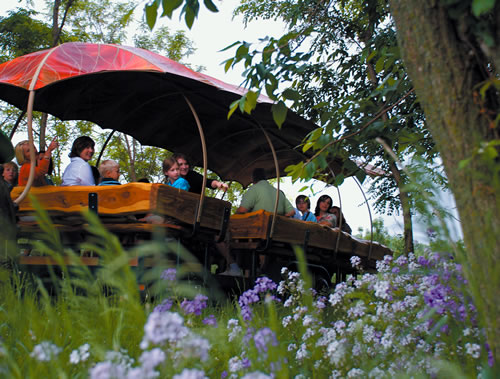 "We've done just about everything from ArborLinks to touring the vineyards and walking on the trails," Semin said. "It's nice working with Lied Lodge to organize these outings. You have one central point, and Lied Lodge takes care of every detail. We've had nothing but positive experiences.
"Plus, we just love the atmosphere at Lied Lodge. If you need to get away for a few minutes, you can walk on the trails, go visit the apple orchards or just enjoy the outdoors."
But Lied Lodge & Conference Center is more than a world-class destination. It is a shining example of conservation and environmental stewardship for the entire service industry.
Guests at Lied Lodge can gather for work or fun knowing their stay is environmentally friendly.
Conservation demonstrations are practiced throughout Arbor Day Farm, including Lied Lodge. The farm contains a conservation fuelwood plantation that serves the power plant that heats and cools the facility. In addition, Arbor Day Farm contains a nine-acre hazelnut research field that is being used to develop top-producing hazelnut hybrids for distribution nationwide. Hazelnut bushes, like all woody plants, are three times more effective at capturing solar energy than annual plants. This means woody plants used on a large scale could reverse increases in carbon dioxide.
Lied Lodge & Conference Center was constructed in 1993. Timbers in the lobby were plantation-grown Douglas fir timbers from Oregon grown on lands that utilize forest stewardship management plans.
Conference attendees have the option of dining in the Timber Dining Room, located inside Lied Lodge. The Timber Dining Room uses fruits, herbs and vegetables grown at Arbor Day Farm, providing the freshest options for guests and greatly reducing the need for food transportation.
The coffee served throughout Lied Lodge is organic, fair trade certified, shade-grown Arbor Day Specialty Coffee, which is part of the Arbor Day Foundation's Rain Forest Rescue program. Shade-grown coffee beans mature slowly under the canopy of the Maya Rain Forest, and the proceeds from the coffee goes to support indigenous farmers there who protect their rain forest lands from commercial development. Every cup of Arbor Day Specialty Coffee helps preserve the Earth's precious rain forests.
Arbor Day Farm is also home to the Lied Greenhouse, where tree saplings are grown, given away to visitors and planted throughout the United States. Arbor Day Farm is owned and operated by the nonprofit Arbor Day Foundation. All proceeds go directly to the foundation's mission of inspiring people to plant, nurture and celebrate trees. The property demonstrates and encourages sustainable development practices around the globe, and promotes conservation and healthier communities through tree planting.
"Planting trees is at the heart of our mission," Farrar said. "Last year, we gave away more than 32,000 trees to children and visitors who visited the Tree Adventure, and we also taught them how to care for and nurture their trees. Every visitor to Arbor Day Farm and Lied Lodge plays an important role in helping people plant, nurture and celebrate trees worldwide."
The Arbor Day Foundation is a nonprofit conservation and education organization of nearly one million members, with a mission to inspire people to plant, nurture and celebrate trees. More information on the foundation and its programs can be found at www.arborday.org. For more information about Lied Lodge & Conference Center and upcoming events at Arbor Day Farm, visit www.liedlodge.org.