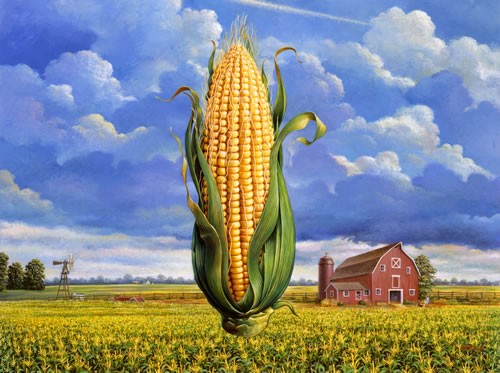 Prairie Fire continues to explore the complexities of renewable fuels in this article and our centerfold article on Novozymes. The following article originally appeared through High Country News' syndication service "Writers on the Range". Our colleague, Pete Carrels, offers this updated version for our readers. His words of caution and concern this spring seem thoughtfully prescient in today's harsh economic environment.
It's called corn on corn. That expression describes a crop-rotation strategy pursued by some Midwest farmers capitalizing on high corn prices because of ethanol. In other words, one year they plant corn. And the next year they do the same.
Whatever happened to letting the land lay fallow, you ask? Isn't growing corn harder on topsoil than growing any other crop? Have you checked crop prices lately?
This summer corn topped $7 a bushel. Last summer a bushel fetched $4, and at that price farmers were earning a profit. Historically, $3 corn was considered a big deal. Of course, production costs are up considerably, so three bucks isn't the gold standard it used to be.
Thanks largely to ethanol and high crop prices (soybeans and wheat are way up, too), my hometown is enjoying its most significant economic boom in many decades. Aberdeen, S.D., where I live, is the county seat of Brown County, the most important agricultural county in South Dakota. That's saying a lot, because South Dakota might be the most farm-dependent state in the union. Economic activity in the state is roughly $32 billion. Agriculture, directly and indirectly, contributes about $18 billion to that.
Much of Brown County lies in the flat, fertile James River valley, where corn, wheat and soybeans mantle the land. It is a place where industrialized prairie and monoculture reign. There are 1.1 million acres of land in Brown County. Nine hundred thousand are planted to crops.
When Hillary Clinton campaigned here last spring, she spoke to an excited crowd from the porch of a farm home that serves as headquarters for an impressive agricultural operation. Her hosts insisted to the New York senator that they need a safety net if they are to continue to feed the world. Few among the 600 people gathered there doubted that farmers deserve that, or if feeding the world is what they are doing.
Farmers understand that crop prices can quickly tumble to below production costs. Subsidies keep farmers on the land, providing stability to an industry characterized by uncertainty (mostly caused by weather), and help insure that farmers can keep planting what is needed to stock grocery shelves and more. The subsidy programs are part of a complex system generally summarized as a "cheap-food policy." Trouble is, food isn't what some corn farmers grow anymore.
Last year the federal government paid $3 billion in subsidies to farmers. South Dakota, the recipient of $158 million, ranked 12th among all states in the amount of subsidies received, just ahead of California. Sixty-eight million dollars of South Dakota's subsidies went to corn farmers. Brown County led all 66 South Dakota counties with subsidies worth $7.5 million—$2.9 million of that was delivered to 889 corn farmers in the county. Even when prices are good, and even when corn is not being used for food, there are subsidies to tap.
But it's not crop supports or conservation payments that are dramatically boosting farm incomes right now. Ethanol is doing that. Of course, ethanol is heavily subsidized.
In Brown County, high corn prices and a convenient market for corn translate into a bonanza, not only for farmers but for anyone who sells stuff to farmers or loans them money.
That's why there's a thriving economy in my corner of the world. Sales of flex-fuel trucks and SUVs are strong. The sprawling implement dealers fringing Aberdeen have orders for six-figure tractors backed up for two years. New houses are springing up everywhere, including mini-mansions in subdivisions like you'd see in Sioux Falls. Cattle producers will soon be delivering their livestock to a large new beef processing plant being built on the edge of town. Two ethanol plants are operating just outside of Aberdeen, and two other plants have been built within 20 miles of the city.
The ethanol industry has impacted the rest of South Dakota similarly. There are now 16 ethanol plants in the state. Fully 50 percent of the state's corn crop—a higher percentage than any other state—is converted to ethanol.
Despite weighty evidence against the appropriateness of corn ethanol, many farmers and ethanol officials remain steadfastly supportive. A recent surge in protests against ethanol by consumer, environmental and other groups (even the Republican Party platform, "USA Today" and "Time Magazine" have taken big swipes at corn ethanol) might be a tad late. The corn-ethanol industry and its supporters have done precisely what they needed to do to help block or stall a reversal of favorable public policies.
Consider that there are now 147 ethanol plants spread across the Midwest and the Plains, and that a costly infrastructure, including water and waste systems, rail spurs, roads, power generation and distribution systems, has been established to facilitate corn-based ethanol. It's impossible to say how much money, private and public, has been invested in the corn-ethanol enterprise, but it is undoubtedly so sizeable that the industry can use this as a rationale for permitting corn ethanol to continue.
Aberdeen now has a vested interest in both higher crop and oil prices. And while those two can have an unfriendly relationship, who could have imagined that my hometown would have something in common with Saudi Arabia?
"Corn with the Wind" painting by HessDesignWorks.com (Mark Hess)