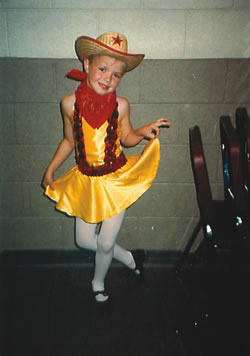 When I was three years old, I embarked upon an activity that unknowingly would become my greatest passion. Passion is a relevant term that has a different meaning for everyone. To me, passion is when you love and appreciate something beyond reasonable doubt, so that it becomes a part of who you are. My goal is not to make my passion your passion but rather to educate you on the aspects you need to know to understand and appreciate what it is that I so unconditionally love.
My passion, in one word, is dance. Dance is defined as moving rhythmically, usually to music, using prescribed or improvised steps and gestures. However, coming from someone who knows and understands the art, I can attest that definition barely skims the surface. Dancing is becoming one with the music; your body is an instrument you use as an expression of emotion. Ruth St. Denis once said, "I see dance being used as communication between body and soul, to express what is too deep to find for words."
What saddens me is that there is only a small fraction of the population who share the same level of appreciation. What a person should understand is that you do not have to know the technical terminology behind dance to recognize the value and enjoy it. If the words plié or pirouette are foreign to you, that is OK. When I attend a ballet, I focus on the eyes. I look at the eyes of the audience members, sparkling with enjoyment. Next, I look into the eyes of the performers, the dancers. The spotlights so precisely placed on them are enough to display the twinkle in each of their eyes, their passion. When a dancer is on stage, the lights in her eyes produce a black auditorium where the audience is sitting. From the perspective of the performer, she is looking into the abyss of the dancers' sanctuary.
Baseball is referred to as "Americas favorite pastime." There are exciting moments and there are dull moments in those nine innings, but the passion for the games never leaves the park. Although the ballet hasn't ever been referred to as "America's favorite pastime," it has elements like baseball. In fact, one quality that a ballet possess that baseball does not is each ballet tells a story. Take the classic ballet "The Nutcracker," for example; it is the story of a girl who falls asleep and dreams of a Nutcracker Prince fighting a battle against a Mouse King. Sure, in one sentence the story seems mundane; however, from the moment she falls asleep until the moment she wakes up by the Christmas tree, there are moments of anger, passion, excitement, rage and imagination. In every ballet, there is something for everyone. What I love about the art of dance is that because there are no words, you are given the capability to make it what you want. Sure, there will be a brochure outlining the intended plot, but take a chance, create your own. Sitting in that auditorium, watching the performers, relate their movements to your emotions.
I challenge your opinion and any preconceived notions about dance and say … go! Enjoy it for not what it is but what it can be. Follow your heart and imagination on a journey past something far greater than the surface. Look into the eyes and look for the passion. This does not mean it will be your passion, as it is mine, but I hope you will find appreciation for the passion in dance.
Baseball might be America's favorite pastime but, who knows, maybe dance could become yours. I leave you with a quote that defines the importance of passion in one's life: "If there is no passion in your life, then have you really lived? Find your passion, whatever it may be. Become it, and let it become you and you will find great things happen for you, to you and because of you." (T. Alan Armstrong)
Related Story:
'The Nutcracker' as it was intended by Barbara Schmit